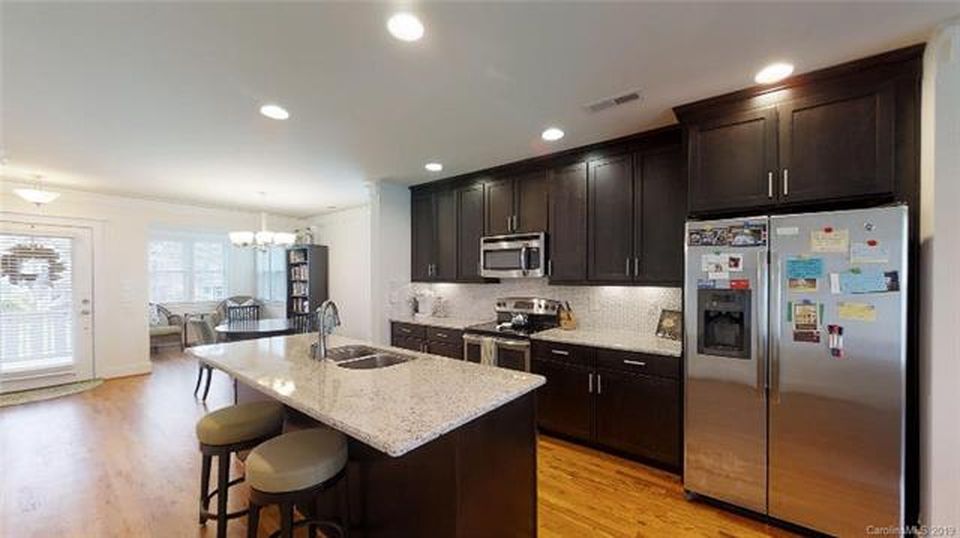 Starting Our Kitchen Reno
We officially started our kitchen reno today! Renovating our kitchen was an idea I had back in April when we first saw this home! I probably owe ya'll a blog or two about how we got to this point… from building our dream home [here and here] to selling it and doing a major downsize. I'll add that to my endless to do list but for now, let's skip a few chapters to this amazing house that was just made for our family!
From Old Kitchen to New Kitchen
Our old house was honestly, just a bit much. I didn't know what we were getting into when we built it. It was a blessing in SO many ways… we left 5 bedrooms, 2 offices, an upstairs and downstairs living room, a mudroom area, large laundry room, and more for our quaint 1500sqft craftsman home. Since we sold just about everything with our other house, we had some decorating to do! But, first, my vision for the home had to unravel. I have designed a beautiful, French provincial style kitchen to start off our reno! Today was a big step, our new counter tops arriving! It only took me 4 months to finally decide on them and sign the dotted line. The guys were amazing and did a wonderful job!
Adding in the Details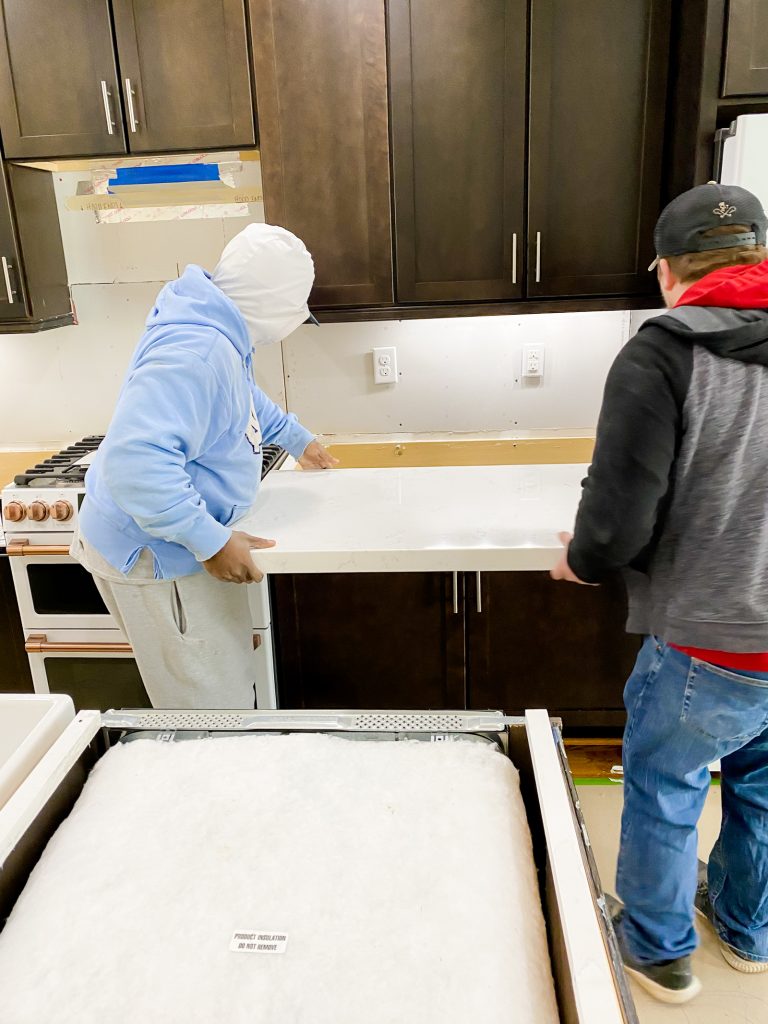 I chose to go with a 2″ mitered edge to create a bold look for the counter tops. A lot of the places I went to recommended 2.5″ and also 2.25″. I didn't feel that was going to work in our space and I am really happy with the 2″. It isn't too much but fits it so well! The images make the kitchen look a bit larger than it really is 🙂
I found most of our other details on Wayfair, Overstock, Joss & Main, and Home Depot. I have been overly impressed with all of the customer service and the quality of the items! My absolute favorites: my farm sink and this incredible budget friendly faucet! Watch for coupons and sales! I got these both on a huge sale!

The lighting I chose for over the island will be these 2 pendants. I also got these on a big sale! I have seen them for under $100! Make sure to sign up for emails, too, they'll send you promos! Another trick I do is add items to my cart and let them sit… they now have programs that will send you coupons basically until you buy it! What a win!

For the others areas in the downstairs, the dining area, living room, entry and sunroom, I chose these lights, again, great deals!

I also recently changed out the faux wood blinds for light filtering roman shades. I love that they are cordless especially with a few kiddos running around! They allow more light in than the blinds but still give privacy. The quality for the price was very impressive!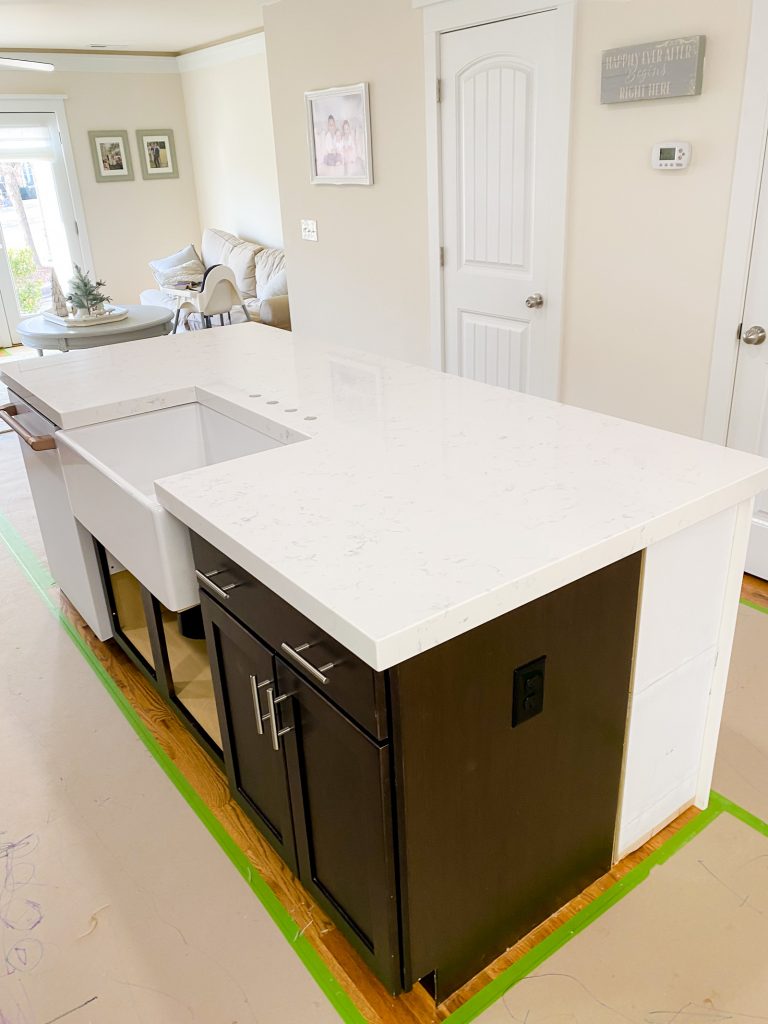 Choosing a Kitchen Counter Color
There were a lot of people asking me on Instagram about how I selected the color after looking for so long. My biggest tip is to find at least ONE piece that you absolutely love! For me, it was tile that will go over the stove. When you find that, bring it with you and pick the color counter tops from there. I do a must have and then try to make everything else I select really reasonable for cost and availability.
I am so happy with how it turned out! To so many people that have helped us, gifted things to us, and extended a helping hand, thank you! We have a ways to go but truly, I absolutely love renovations. It is so much fun to have a dream and watch it come true step by step before your eyes!