PHOTOGRAPHY TIPS AND MY PHONE CAMERA SECRETS
I fell in love with photography during my first year of high school. I won't tell you how long ago that was but let's just say that digital cameras weren't readily available like they are today. I started shooting on film cameras and developing my own images at 14 and ended up turning my passion for photography into a successful career by the time was I was 23. After shooting weddings all over the world, I decided to focus on being a mama and have spent the last few years documenting our family.
WHAT I'M ASKED THE MOST ABOUT PHOTOGRAPHY
My goal is always to post light and bright images to social media and I am asked all the time how I create that look. There are a few simple things I do to make sure my pictures look clear, bright, light, and airy. Although I do shoot a lot on our Canon 5D Mark IV, a lot of my feed is all taken and edited on my iPhone. Watch this video for a little tutorial on how I shoot and edit a picture for social media.
MY IPHONE PHOTOGRAPHY BEFORE AND AFTER
App used: Color Story
I was sitting at the kitchen table when Ryann Whitney ran up and grabbed Emerson, giving him the biggest hug ever! I didn't have more than a second to snap this and although the original doesn't look that great, I knew I could fix it in just a minute using Color Story or Instagram. Here's the before and after of how I captured this adorable moment and also made it look light and bright to match my social media feed.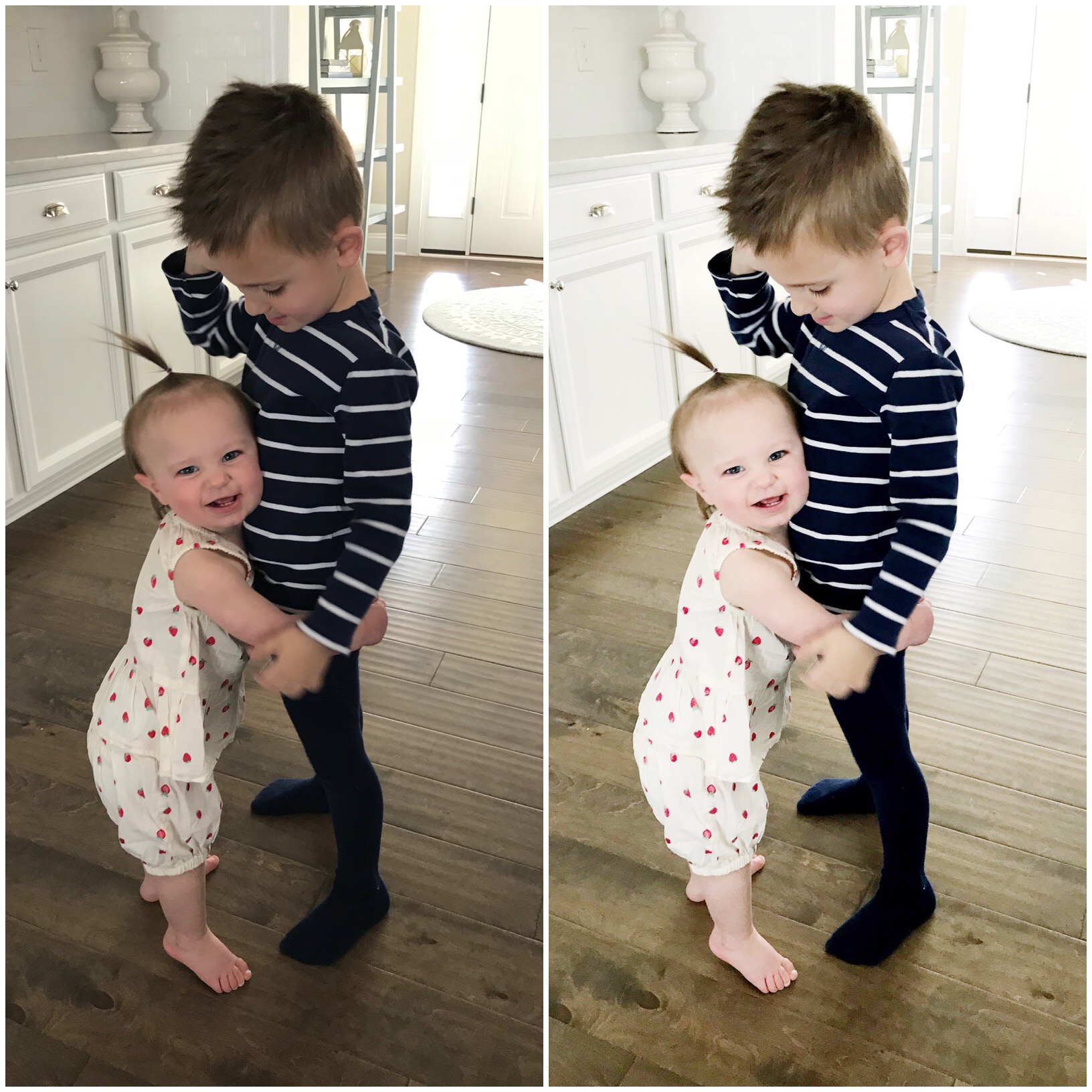 CAMERA RECOMMENDATIONS 
Even though this photography lesson is for phones, I have been asked for a list of our gear we use so I am going to share that here along with a few other options for those interested in what cameras we would recommend or shoot with.

We shoot primary with this Canon and this incredible Canon lens that is only $179! You can use it on other Canon bodies that are more affordable like this one and this one. Our absolute favorite Camera backpack is from Amazon and it easily carries our family items and camera!
I hope you have loved my photography lesson and always feel free to ask questions! I will be sharing more about photography in the future and I am so excited about it! Lots of fun things planned and I really can't wait to share more details soon!!