This year of all years deserves an extra special Christmas… and the best way to do that is of course with a flocked Christmas tree! Adding a flocked tree and some snow to your Christmas decor creates such a beautiful Winter wonderland inside your home. My Christmas decor has always been at the top of my most popular posts so I hope this Christmas post brings some joy into your life!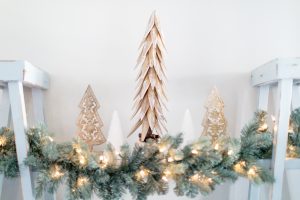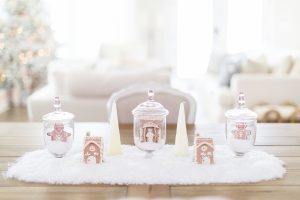 If you've been here awhile, you've seen my previous flocked Christmases and How to Flock a Christmas Tree posts. If not, check them out here and here! I did a real flocked Christmas tree for 3 years and last year I did my first artificial flocked Christmas tree. I have to be a bit honest with you, previously, I was an artificial tree judger. Yup, I sure was. Please forgive me for judging you if you had a fake tree… I didn't know how great it would be until I took the plunge! The quality, beauty, and ease of our new fake tree was beyond my expectations. I don't think I will ever go back to a real tree!
A Flocked Christmas!
I think we can agree that starting Christmas early and bringing in some love, peace, and joy is a great idea! I normally don't ever even think about decorating before Thanksgiving but this year, it's the first week of November and I am going to pull out my artificial flocked tree. Last year I got this one on a great deal and flocked trees sold out FAST! So if you are thinking about an artificial tree or flocked tree, I would grab one today! I got the last one in stock last year and it was perfect!
Here are a few to start:

Some of the best brands can be found on Amazon, Wayfair, Home Depot, and my personal favorite, King of Christmas. There is truly a tree for any style and budget! Target also has them and some are available in your store, today! Our current tree is a slim and is great for small spaces or secondary trees for kids rooms or other rooms where your main tree is not located.

For those of you that would prefer to flock a tree themselves, here is your easy guide on how to do it: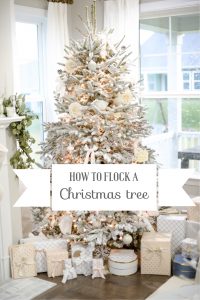 Some helpful supplies can be found here:

This snow flock is available at a lot of local Home Depot stores, too, if you prefer to get started quicker than the shipping time.
Decorating your Winter wonderland
I never get expensive ornaments because each year I like to change them up a bit! I recommend picking a few different textures to create the look you see in my pictures. My collection includes soft fur, fabrics, wood, glass, metal, and ribbon! Pier 1 has a great selection of nicer ornaments but lately, my ornaments are a mix of Target and a few fun ones from Anthropologie. Make a note to shop for them after this Christmas for next year if you like a really good deal like me 😉
Ornaments

Fun Christmas Decor
One of my favorite decor pieces is my ruffle tree skirt! It adds so much beneath the tree and can be easily decorated with any color ornaments!